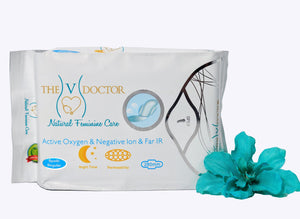 Organic Maxi Pads Super (Night Time)
These organic cotton pads are a must have for all menstruating women!  Best for bedtime or for heavier days.  They are environmentally safe, super absorbent, equipped with 8 layers of protection and has an anion strip!
This anion strip is antibacterial and antifungal and has a host of benefits!
BENEFITS:
* Reduces Odor
* Absorbs Heat
* Assist with Cramps
* Improves Fatigue
* Assist with Clotting
* Increases Oxygen Flow

Ingredients:  100% Organic Cotton. 
Usage:  Can be worn at night or day.  Change menstrual pad every 4 to 6 hours.  Safe for all ages of menstruating women and breastfeeding women.
Caution:  Discard in the trash can immediately after usage.  DO NOT FLUSH. 
Notice: Store in a cool, dry place
Great but Expensive
Miracle in a pad honestly shorter and less painful menses.
They're costly yet worth my coins #TrustMe
Nice
The shipping took one week which was fast, love that the company is black-owned. However, I probably won't purchase the pads again as there are only 8 pads which is not going to last me on my cycle. This is information that should also be listed on the website.