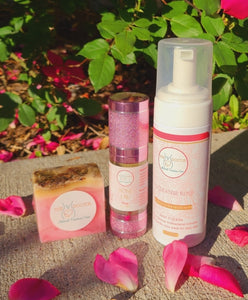 The Rose Collection
Keep It Fresh and save money$ when you get the Rose Collection. A combination of our #1 selling products to keep you smelling nice and fresh all day long. Includes:
V-Cleanse Rose Wash
Pretty-V Rose Yoni Bar
Rose Yoni Oil
see individual products for instructions and directions of usage 
The Rose Collection
Makes me feel so fresh and clean. I will definitely buy it again.
Items that you need
As a young woman didn't need much now over 40 these products are amazing to my vaginal health
The best collection everrrr
I've tried several of these products & I LOVE all of them from the detox pearls to the soap & yoni poms. Thank you for creating something spectacular for us women.
Amazing Products
I love using these products. They smell amazing and don't cause irritation. I've tried products from Honeypot and they just don't compare.