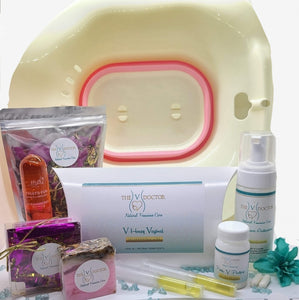 The Treasure Chest PLATINUM!!
It doesn't get any better than THE TREASURE CHEST PLATINUM!!  An EXCLUSIVE and complete collection of all your favorite products bundled together saving you $$$ including:
V-Cleanse Antibacterial Intimate Wash
V-Honey Vaginal Tightening Gel
Candi Kisses Edible lubricating Gel
Plus 

FREE 

Precise-V Vaginal pH TEST STRIPS!!
Sitting Pretty Steam Seat
THE TREASURE CHEST PLATINUM is our number one value with more items for less.  This bundle deal won't be found anywhere else at this price, saving you lots of $$$.  You only get one vagina so treat yourself don't cheat yourself!
(See individual products for details of usage and directions)
 ***SEZZLE FINANCE PAYMENT OPTION AVAILABLE AFTER YOU ENTER YOUR ADDRESS IN CHECKOUT**
Best Investment
I love this Box, I ordered this about 8 months ago and I still haven't used completely everything, but I have no complaints. Nothing hasn't irritated me, and my man loves how I taste.. Enough said for me.
V Honey gel
My Man doesn't know my secret but he did 2 round in less than 10 minutes I will order more 🤣🤣🤣🤣
Love My Box
So many goodies for my goodie Love the products. I Will definitely be re-up soon. I appreciate you making products to keep our V healthy 💛
Best decision
I've heard great things about your products. So I decided to buy this. So far so good this has been a life saving product.
WOP times 1000
Let's just say, I've ALWAYS had a WOP, but this box has made me buy an entire pack of those blue soaker pads. At 39, I might be pregnant before the end of the year, lol...IYKYK